As you may know, the girls had their first fanmeet on the American grounds of New York. How did they arrive to the Big Apple? In style, of course!
Tiffany has been showing some love to the color red lately. As shown in the picture, she is wearing a cute Jill by Jill Stuart cozy coat that had a chalk like print of red, blue, and white  and matched it with a pair of cute red Prada pumps. To go with these, her skinny jeans had a very light color that finished off the colorful feel and showed off her envious legs. To have the more celebrity feel she adds on shades and a large Yves Saint Laurent bag. As simple as this may seem, it's a stylish but at the same time a comfortable look that only she could've thought of and pulled off.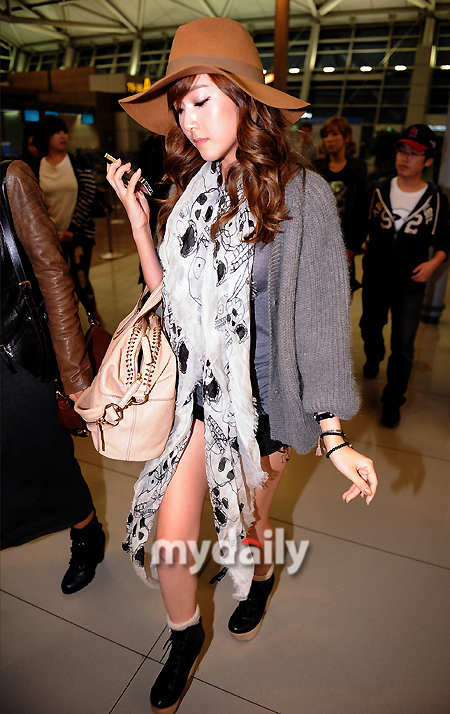 Jessica went for a different route with her accessories; Along with a top, shorts and a Sandro cardigan, Jessica wore a floppy hat that complimented her hair quite nicely and carried a nude Givenchy bag that complimented her skin color. To finish it off she wore a pair of massive Chloe Sevigny for Opening Ceremony boots, a Marc Jacobs skull patterned scarf and a couple of black bracelets. The look is very layered and the shorts stop it from looking to much as a winter look and into a transeasonal outfit. The right bag and floppy hat, injects a feminine touch to the whole outfit.
The girls arrived in New York safely and the fanmeet with Sones couldn't have been any more of a success. Western celebrities better watch out because new fashionistas are coming to the scene, with style!