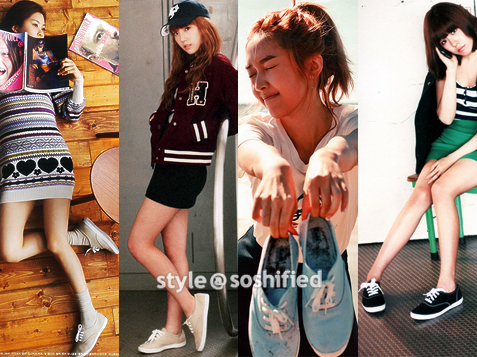 Review on the Keds Champion Canvas Originals as seen on Seohyun, Jessica, Tiffany, Taeyeon and Yoona.

My first thought was of course 'Damn, look at those legs'. I'm kidding of course! Or am I? I can't deny Seohyun's lovely legs! My first actual thought was 'I must have it'. Off to the store I went and I got the exact same shoes.
Fit: When I first put on these shoes, I noticed right away they are made to make your feet look smaller and slimmer. If you have wide feet be careful because they will hurt and might tear.
Style: I also love the fact that the style is simple. It matches with anything really, and it's very casual.
Material: It doesn't have much cushion on the feet as regular sneakers, but it didn't bother me much. It was just a wee bit tight at the front it is a bit narrow. Overall it's a pretty good shoe though.
Rating: 3.5/5 stars
Keds Champion Canvas Originals are available at Keds.com