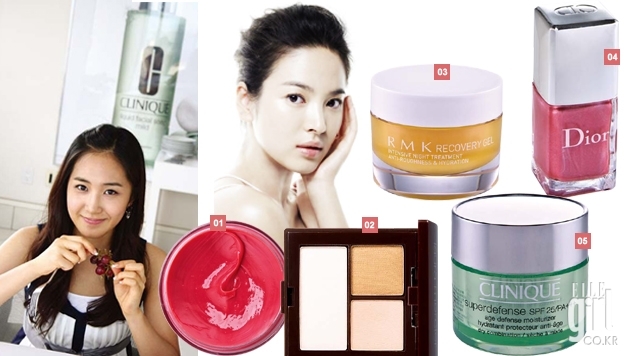 1. MAC: Tinted lip conditioner SPF15 pink @ Maccosmetics.com $28
2. Laura Mercier: Eye Color Trio Midnight Sun @ Azperfume.com
3. RMK: Recovery Gel @ Lookfantastic.com $38
4. Dior: Vernis Nail Polish @ Nordstrom.com $21
5. Clinique: Super Defense SPF 25 @ Clinique.com $90
How to moisturize your skin?
-Instead of some special secret, I just try to drink alot of water. Not only can your skin dry out but it's also tiring for your voice as well. And no matter how tired you are, you must wash your face with cleanser. Although many people say that if you just do the cleanser well, your skin will become beautiful, I've directly seen the difference when I've washed with cleanser and when I haven't. Also, using deep cleansing mask on your skin once a week to get rid of the old skin cells will also definitely make your skin brighter and softer.
How to deal with little bumps all over your skin?
-Since that's a result of your sensitive skin, instead of moisturizing cream, its better to invest in exfoliating cream. Nowadays, since I'm so busy up to my eyes and nose, I tend to utilize a simple face pack (mask) to care for my face. Also, before I sleep, I generously put on extra moisturizer. There is alot of products made here domestically that are effective yet inexpensive. Since its easy to get skin trouble, I think you should always invest in good cosmetics for yourself.
Any new items that you must have for the new season as well as any items that we should keep an eye on?
-Moist body lotion, cream and soft lip balm. If you had to have just one item that you had to have, it would be lip balm, so that your lips will always be moist. I think lip balm is important because if gives off the impression that you are wearing makeup, even if you are not. Also, since this season's color is black, to go along with that trend, gold tone eye shadow and pink nail polish will also be a good addition.
How can I have my own makeup habit as the seasons change?
-I personally am not the type to wear alot of make up. I usually get make up done because of schedules. Because of this, I can't really tell you what sorts of makeup would be good for you, but I do use moisturizer and foundation to even out my tone. If I have time, I also use skin masks for my face. This ensures that your skin will be shiny and bright.

Your beauty secret that stays through all the seasons?
-For my skin and for my health, I never procrastinate on exercise. Although I can't exercise separately when I have a schedule, the dance practices that we do help alot with this. I personally am working hard with exercise and yoga to have a healthy body.
Is there a star that you think has the best skin?
-Song Hyekyo and Lee Youngae sunbaenim, who always have such beautiful skin and faces
Original Soshified Thread
Translated by: boxclub (Soshified.com/forums)
Article by: Elle Girl Trend Report Explorer