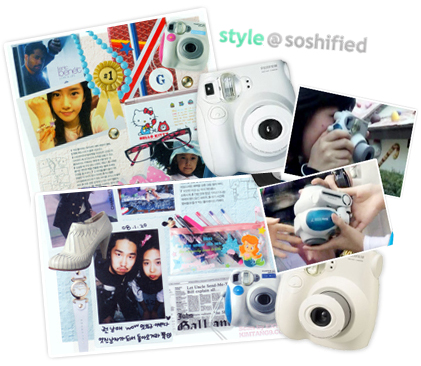 Review on Fujifilm's Instax Mini Pink Polaroid Camera as seen with Yoona, Seohyun and Yuri
KitaHoshi – Some of may you have know this or not but when Polaroid shut down their Instant Camera Line I WAS DEVASTATED, I saved up money for this camera. Depressed I went on line to look for some alternatives. And then I stumble onto Soshified and saw SNSD toting around these cuties I HAD TO GET THEM.
But to my dismay, there are many downsides to this camera. First off it cost a pretty penny to buy, and then there was the film which came 10 in a pack but also hurt my wallet. They are also the size of your credit card. The thing that p***ed me off it needed batteries but it didn't come with any and it needed 6! I rummaged around my whole house for those elusive batteries. You also need good lighting when you are taking pictures, do not even attempt to take them at night even if you fumble with the settings.
The only upsides are that it is dead easy to use right off the bat. It is also fun to use with your friends and write little messages. You then get your pictures developing in front of you, which is usually a 2 minute wait, which is not instant at all, such a deceptive name I rarely that it should be change to 2 Minute Polaroid Camera! This item is more for novelty use then an actual efficient, and good camera to have.  3/5 stars
cream – I bought this camera almost a year ago and still use it. It's a cute, adorable camera however I would highly recommend that if you are interested in getting a polaroid camera, to get the Polaroid One600 Classic Instant Camera.
The huge turn off about the Instax is that the polaroids are credit-card size and the film is expensive. I found the quality of the polaroids to be excellent however, there is not enough space to write on. Keep in mind, if you do buy this camera, you will need a bag to carry it in,  I found the camera to be a bit heavy and nuisance to carry at times. 3/5 Stars
You can purchase the Instax on Ebay or at Lomography.com