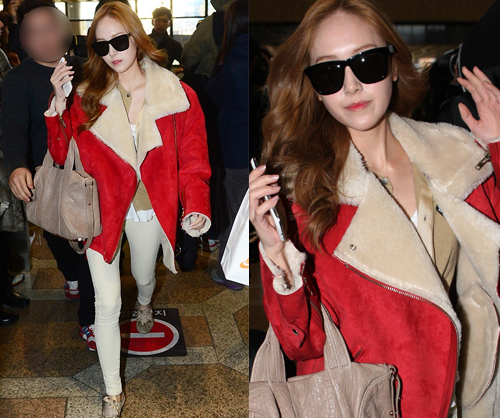 For this Outfit of the Week, the choice wasn't too hard with several of the members staying in Japan, leaving it to be a battle between Taeyeon, Jessica, Tiffany, Yuri and Seohyun.
On her way back to Japan from Gimpo though, Jessica waltzed through the airport with an incredible red/beige coat that not only kept her warm, but oozed style and class, and complimented Yuri's dark overcoat. The rest of her outfit continued the beige and muted tone, with an olive-vest layered over a white shirt, and continued down to some skinny beige pants, ending with a pair of Klein Natural Faux SnakeSkin Lace Up Brogues.
For accessories, an Alexander Wang Rocco Duffle graced her lithe arms. Of course, this is Jessica at the airport, and no outfit would be complete without her sunglasses, this particular pair being Linda Farrow Luxe contrasting her newly lightened hair.
Congrats to Jessica!
Image credit: newsen and dispatch