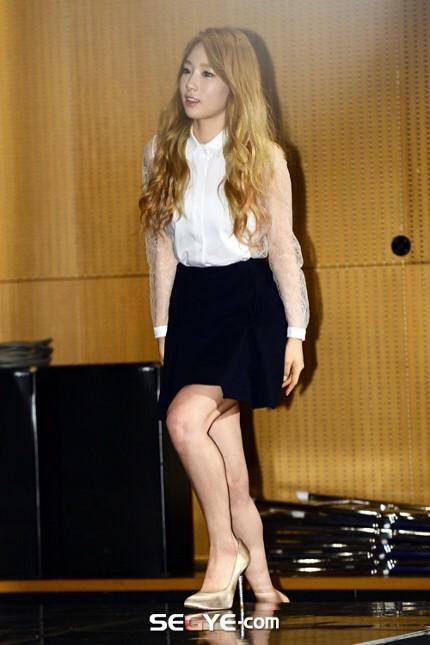 With the debut of "The TaeTiSeo" show, and all the 3 members being in the running for their press conference wardrobes, this week was certainly a very popular one, with over 800 votes being cast for our winner, Taeyeon! Let's break down what made her stand-out.
Our lovely kid leader strutted her petite self out for the event in a black-and-white ensemble that was one bow tie or vest short of being a "Mr. Mr." outfit, but it suited her well.  She sported a sheer-sleeve white blouse, a popular look this year, and one that accentuates her famed milky white skin. It also manages to be both alluring without being overly sultry, a great compromise. Her dark skirt provided a nice contrast with her top, and showcased a moderate amount of leg, compared to Seohyun (more) and Tiffany (none). Her feet were adorned with metallic gold high heels, a very unusual, though fashionable, choice to go with the rest of the ensemble, and in the sense of the outfit, kept it from being "by the numbers". As this was a press conference, no sunglasses or accessories were present, and her light blonde hair was lightly curled at the ends.
Congrats to Taeyeon for winning this week's Outfit of the Week, and thank you all for voting!
Image Credit: Segye.com