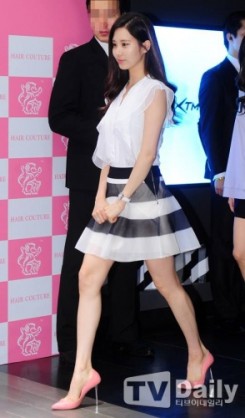 Though she may the youngest, maknae Seohyun currently seeks to top her unnie's when it comes to fashion, showcasing yet another stellar outfit for the 2nd week in a row, this time at the Hair Couture event held earlier in the week.
Despite it being only made up of a few pieces, Seohyun made her outfit a centerpiece of the event. Most evident was her black-and-gray striped skirt, which showed off her lengthy legs, showing her growing maturity. Her top was a flowing sleeveless number, revealing her milky white arms(watch out for those elbows!) while remaining modest. A pair of pink heels added to her already noticeable height, and sought to give an even greater image of height and stature, while not drawing too much attention. Accessory wise, she donned only a white watch. In a very unusual change though, her normally solid-colored hair was affixed with pink highlights, possibly the most shocking part of the otherwise formal outfit.
With her sophisticated style making us swoon 2 weeks in a row, it wouldn't surprise me to see her gracing another magazine spread sometime soon. Congrats again Seohyun!