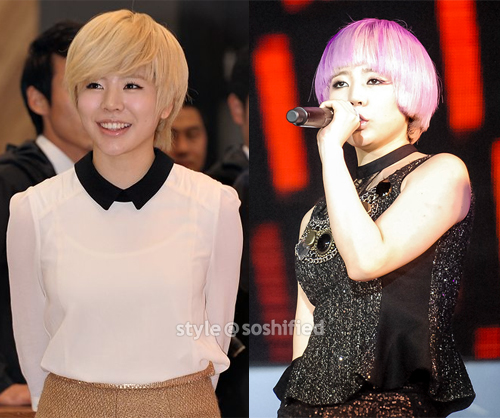 SMTOWN Singapore 2012 was definitely a big hit, but another piece of shocking news was about our aegyo member Sunny! With photos of the concert surfacing, one very noticeable difference was the fact that Sunny had a new – more 'colorful' hair do.
She switched her iconic blonde pixie cut to a bright candy purple shade. The cut itself has also changed to a more clean straight cut, and her side part bangs have been transformed to a straight cut full bangs. The rounder shape of her hair is also more noticeable.
With her blonde pixie cut receiving generally positive reviews, we highly questioned how this hairstyle affects Sunny's look. The inconsistency of the shade or color would make it harder to match outfits with (The gold "Mr. Taxi" costumes definitely don't match with her hair), and the shape of the cut garnered comments of the hairstyle making her have a 'mushroom' appearance.
This isn't the first time we've seen Sunny in stand out hairstyles (such as her "Flower Power" wig). Her positive and fun appearance always makes her able to pull them off, but does it look high fashion or too 'avant garde'?
What do you think about Sunny's new do? Is it a hit or a miss?

Loading ...