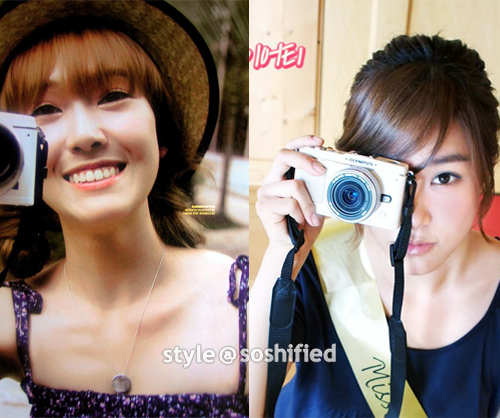 Review on the Olympus PEN E-P1 14-42mm Digital Camera as seen with Jessica and Tiffany
The Ice Princesses' camera of choice during the "All About Girls' Generation" DVD, the PEN E-P1 is an affordable option for those looking to step-up from point-and-shoots to dSLR's. The body is only slightly larger than the average camera, but thanks to it's Four Thirds sensor, packs in image quality miles ahead of what point-and-shoots can produce. It's also very user-friendly, and first-timers will no have trouble composing beautiful shots, even with the kit lens. The svelte and sleek off-white body is also undoubtedly stylish, for those of you out there that can't bear to have a camera that won't match any outfit.
On the downside, the selection of lenses for the camera is small(mounts are available to utilize other lenses, but defeat the purpose of the cameras small body), and while the image quality is great, it's not quite up-to-par with dSLR's like the Canon T3i or the Nikon D5100. Also, the feature set is basic for a dSLR, so users wanting a camera that excels in sports and fast motion photography should look elsewhere.
3.5/5 Stars
The Olympus PEN E-P1 14-42mm Digital Camera is available @ Amazon.com