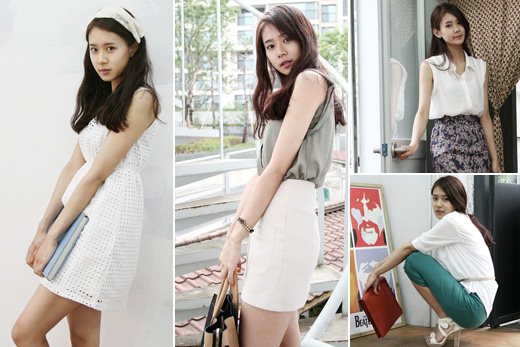 What do Nichkhun, G-Dragon, Lee Seungki, and Lee Yongdae have in common?
The answer is that they all chose Girls' Generation's Yoona as their ideal type. While there are many female idol members going with sexy concepts, the one that has been capturing the hearts of men with her deer-like eyes is "innocent" Yoona.
While seeming innocent like a child, there is a noticeable mysteriousness to her. If you're curious as to what the secret is behind Yoona making the hearts of men flutter, pay attention. The reason why she receives so much love is her elegant, yet loveable, "young girl look".
-Young Girl's Color, White
If you want to transform into a delicate girl that looks like she would flow with the wind, choose white.
You could call a white one-piece the representative "young girl look" item, as it gives off an innocent and clean image. Even if the length of a white mini one-piece skirt is a bit short, it looks more neat than sexy.
Another plus to the white color is that it goes with any other color or pattern. You can get an elegant look by matching it with a soft khaki colored blouse, or get a livelier look my matching a flower pattern skirt, or fresh, green-colored pants.
-Flowing with the Wind, One-Piece
The end of a girl's skirt moving gently with the blowning of the wind is like every man's DREAM. A chiffon one-piece is an item that will maximize one's femininity.
A long chiffon one-piece that runs below the knee is one that gives off a lovely yet slightly sexy look, while mini flower-patterned chiffon one-pieces give a bubbly, cute look. We suggest you wear your hair down naturally if you want to go for a poised, mature look, and to wear it up in a bun for a more fresh look.
Cancan-style chiffon one-pieces are most fitting when worn on a sandy beach. Although wearing the said design any given day can be a bold move, if taken on vacation, it is one that will give a completely different innocent image from other mini one-pieces. Matching it with a light cardigan for a day look would be fitting.
-Completion of a Girl, Lovely/Adorable Accessories
Rather than coming off as cute, hairbands with a large, white ribbon are closer to an innocent feel. It's something one should look to using if you're aiming for a pure, transparent image. Tying a scarf into a ribbon on your head would also work.
Scarfs can be used in a variety of ways, such as using it like a belt on a dull white look, or by tying it onto a clutch in place of a strap. Using a pastel-colored or white scarf to accessorize will give a different but more feminine feeling.
An item that can't be forgotten is a shining ring sitting on a girl's finger. Rather than rings with a simple design, it would be better to choose colored rings with a cute design. Putting the focus on one ring is enough, but wearing multiple rings on one hand is also a good choice.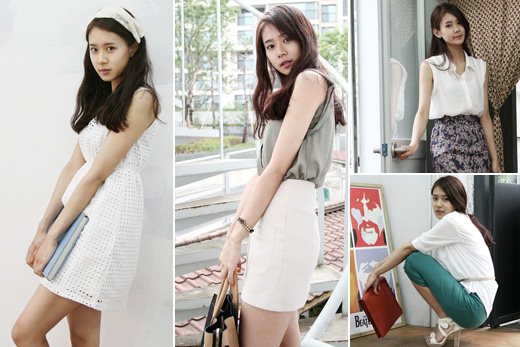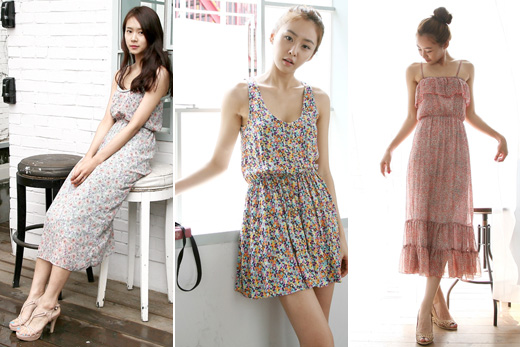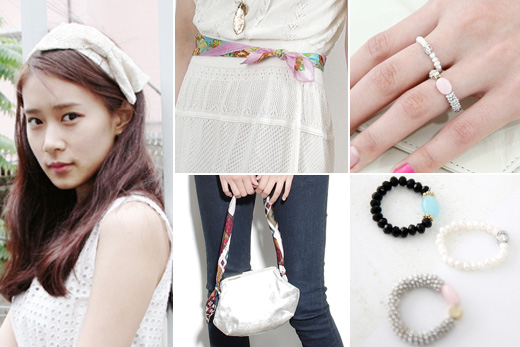 Source: Nate
Translated by: ch0sshi@soshified.com
Edited by: residentbenchwarmer@soshified.com
Have a news item that you think Soshified should know about? E-mail us at tip@soshified.com.
Follow us on Twitter: http://twitter.com/soshified for the latest on Girls' Generation.