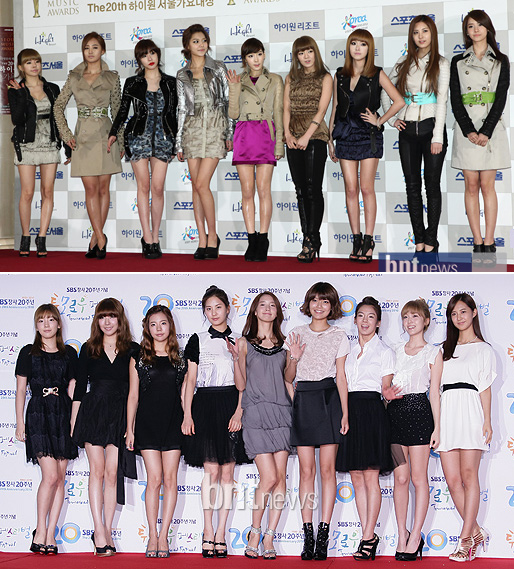 Whenever Korea's top girl group SNSD releases an album, everything about them, including their fashion style, make-up, and method of taking care of their bodies, becomes a hot topic.
SNSD has gathered a lot of attention since their debut in 2007 with 'Into the New World' because of their amazingly large number of members, pure image, synched choreography, and pretty looks. Since their debut, they have released countless hit songs including 'Gee', 'Tell Me Your Wish', and 'Run Devil Run', and these songs together with their charming choreography have made them into Hallyu stars.
The SNSD members showed off their pure charms when they first debuted and have gradually started to show off their mature charms. The members are each creating their own personal charms after becoming adults. People are paying attention to their styles, which are changing to fit their images.
Yoona's Minimalistic Look & Seohyun's Romantic Look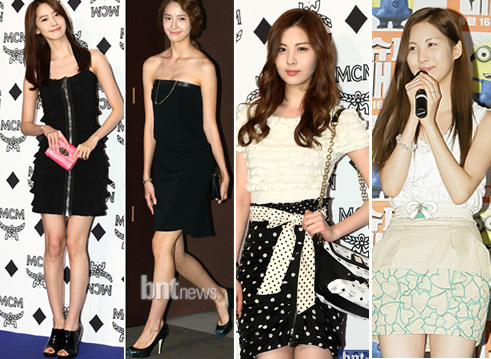 (Left to Right: Yoona wears Sonia by Sonia Rykiel/MCM/The Shoe and Gucci. Seohyun wears Sonia Rykiel/MCM)
Yoona, the most active SNSD member, seeks a simple styling to accentuate her face. She tends to wear mini dresses to accentuate her long arms and legs and tends to have her hair long and straight or up in a romantic ponytail.
Since her neck is long, she gives off a refreshing and stylish feeling while wearing just minimalistic clothes. She also wears simple shoes to match her overall look.
Seohyun seeks a romantic styling to match her well-known healthy diet and proper lifestyle. She wears ribbons, ruffle details, and heart-patterned clothes with wavy hair to create a feminine styling. Seohyun wears bright colors to accentuate her light skin.
Yuri's Glamorous Look & Sooyoung's Modern Look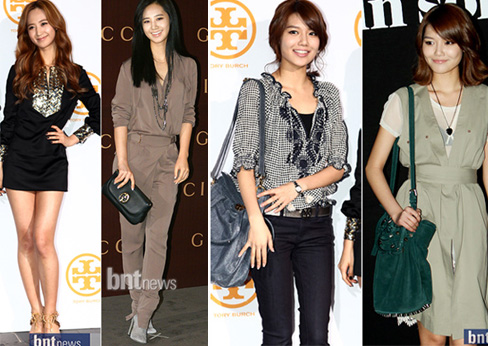 (Left to Right: Yuri wears Tory Burch and Gucci. Sooyoung wears Tory Burch and Alexander Wang)
Yuri, who has dark skin and a toned body, tends to show off a glamorous look. She matches studded jackets with gold-detailed shoes and also wears silky, glossy, nude-toned jumpsuits to show off her sexiness. She has also worn a cape jacket with an unbalanced hairstyle to show off a trendy styling.
On the other hand, Sooyoung likes clothes that are modern and classic at the same time. She likes wearing a checkered T-shirt with a ruffled neckline, an A-line one piece, or a tulip dress while carrying around a big bag. She either goes with a short, retro hairstyle or she ties it up to reveal her unique and refreshing face.
Hyoyeon's Chic Look & Sunny's Colorful Look
(Left to Right: Hyoyeon wears Gucci and MCM and. Sunny wears Gucci)
Hyoyeon, who is said to have a lot of interest in fashion, tends to wear shades of white and black to give of a chic look. She tops off her styling by using accessories, such as by matching a minimalistic dress with a clutch bag or by wearing a fedora with a casual outfit.
Meanwhile, Sunny often wears colorful clothes. Bright colors with subdued patterns show off Sunny's cute face more than monotone clothes. She completes her feminine look by wearing simple open toe shoes or pumps.
Tiffany's Feminine Look & Taeyeon's Cute Look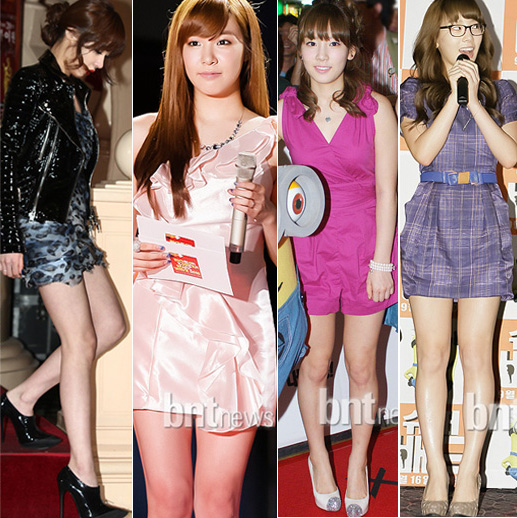 (Tiffany wears Burberry Prorsum)
Tiffany has become a hot topic because of her recent feminine look that was topped off with red lipstick. Fitting for one of the queens of beautiful legs, Tiffany enjoys wearing miniskirts. She shows off a feminine look by wearing skirts with lots of wrinkles and draped or ruffled mini dresses.
Taeyeon, who has a lot of cuteness, tends to go with a cute look. She matches a cute, vivid-colored jumpsuit with subdued accessories and also tops off a checkered one piece with a ribbon belt to show off a cute look. Taeyeon was recently a hot topic for wearing chic clothing that is different from the cute look she had often worn before.
Jessica's Trendy Look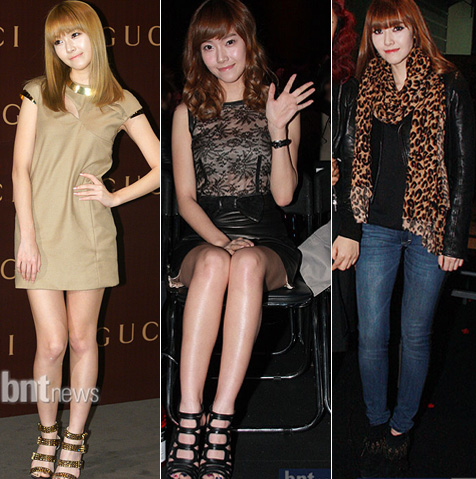 (Left to Right: Jessica wears Gucci, Valentino/Suecomma Bonnie and Theoro)
Jessica prefers to wear clothes that are trendy and flashy or clothes that have feminine details. She enjoys matching leopard prints, laces, and flashy colors or wearing cute miniskirts. Jessica's trademark bang hairstyle help her look stylish.
SNSD continue to improve as the members show off their individualities. Let's look forward to seeing what stylings they will use in the future to captivate us.
Reporter: Lee Sunjung
Original Article: http://news.nate.com…/20110523n03453
Translation: jreddevil07@soshified.com
Contributor: residentbenchwarmer@soshified.com