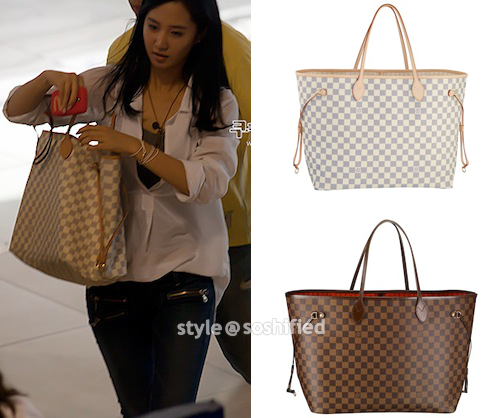 A review on the Louis Vuitton Neverfull GM as seen with Yuri.
Louis Vuitton creates the best quality and best looking handbags, due to it's high fashion status it also has the best celebrity approval for go-to bags. The girls have been seen using LV bags for many occasions, amongst them is Yuri who used this LV tote bag with the likes of fashion model Cara Delevigne, Hollywood actress Amanda Seyfried, and fellow K-Pop star Park Bom.
This bag may look simple, but it has many unique features/designs that make it worth it's price!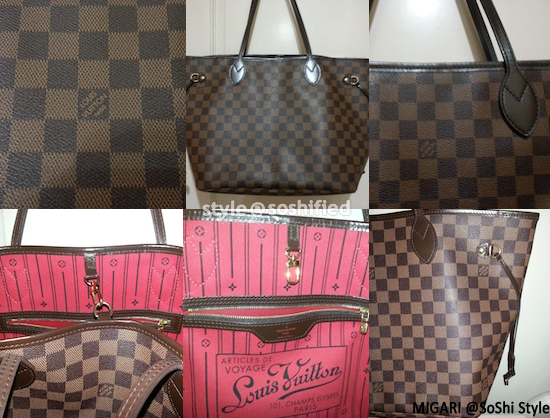 *All photos above are personal photos
The classic and elegant design has a very vintage appeal (reminiscent of 1940′s fashion). Although it has a vintage style, it can be styled in different ways to make it look more modern. The bag features a damier (checkered) pattern with the 'Louis Vuitton Paris' name printed in a small typography fitting the size of one check block.
The size of the tote is quite large, it's 12.6 inches tall and 15.4 inches in depth, so it's a perfect day bag and versatile enough for people who need to carry multiple items. This bag can even pack an extra pair of clothes and still have your necessities (such as wallet, cellphone, etc.) inside, this makes it fully explain the bag's name: "Neverfull".
The canvas has very small ridges to match the damier pattern. It's actually thin compared to other LV bags so it might be more prone to scratches (although I never got the bag damaged in any way). Take note that the white canvas version (like Yuri's) might attract dirt and mess easily, so take the safe way out and use a leather protector/cleaner once you choose to get that canvas color. I opted for the brown canvas version due to that reason and because it had a more vintage feel compared to the white canvas, which I personally liked. Even if Louis Vuitton is known for providing one of the finest leatherwear, it's best to take precautionary measures when it comes to the care of luxury items.
The bag's inside pattern has gorgeous striped monogram pattern with a cursive typography of the brand name. The brown canvas has a red interior, while the white canvas has an off-white interior. It also has an inside zip pocket perfect for keeping personal belongings in style.
The bag is also notably light and flexible. It adjusts itself to whatever you plan on keeping inside. As a drawback, it can look burdened once it's been overpacked. The thin leather trimmings have gold accents, some are on decorative form such as buttons, and some for more practical purposes such as an interior D-ring to slightly close the bag and placement for car keys and accessories.
A big inconvenience that I experienced from this bag would be the fact that it doesn't have a zip closure. The tote bag is meant to be left open, leaving other people to see your belongings easily and worse, a higher chance for pick-pockets. Therefore it's not the best bag for those who also look for security.
As I said earlier, the bag is flexible and this is also due to it's leather drawstrings. Once the drawstrings are pulled, it can change the bag's shape into something more of a pyramid or square depending on how it's adjusted.
Here's a look at what it looks like once the leather drawstrings are pulled: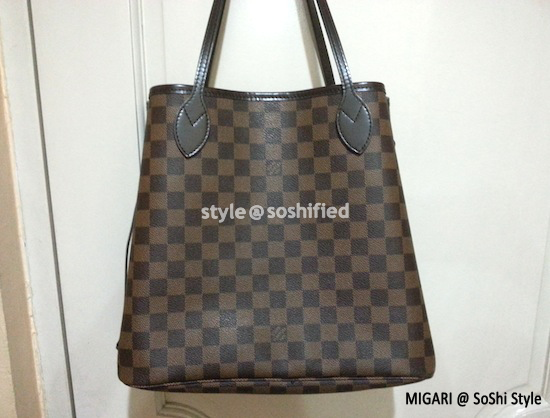 It takes the bag some getting used to. The sides of the bag have to be folded first before the leather drawstring can be adjusted. The bag's large size is one of it's main features, but it's great to have the fact that the look and size can be changed entirely with the simple pull of a drawstring.
Essentially, this is a magnificent bag! It definitely lives up to Louis Vuitton's standards and it is a perfect blend of multi-functional features with a timeless design. However, it does lose a very important feature which is the full zip closure, but it's many outstanding benefits still makes this make a win!
Rating: 4.5/5
You can purchase the Louis Vuitton Neverfull GM here.
Yuri image credit: cookieandcream.net