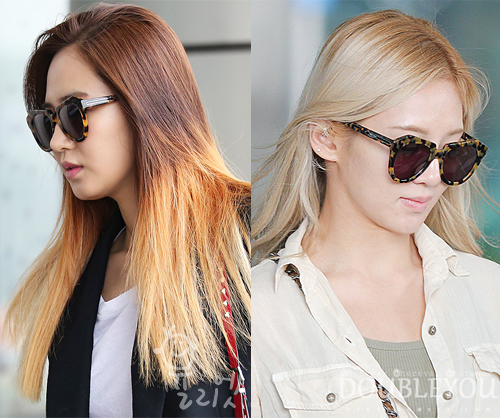 A review on Karen Walker's 'Number One' sunglasses as seen on Hyoyeon and Yuri.
I love cat-eye sunglasses. The problem? I can't tell you how hard it is to find one that suits my face. Pushing aside all those rules that cat-eye sunglasses suit heart-shaped faces, oval faces, etc. one of the key elements I found with wearing cat-eye sunglasses 101 is that: your eyebrows must be showing just above the sunglasses. Not all of it, just a bit of it. Really strange prerequisite but trust me it's one to go by.
Now about these amazing sunglasses. Not too big and not too small, Karen Walker's 'Number One' sunglasses ended the search for the perfect cat-eye sunglasses and I'll explain why. It is not your conventional cat-eye sunglasses due to its quirky designed frame but still as stylish and trendy as those glasses that follow along the more traditional route.
The frames are sturdy and you know from holding these sunglasses that they will last you (lest you not step on them) a long time. The frames do not pinch the bridge of the nose, they do not slip and most importantly they are not tight around the temples. However, the first time I wore them I found them slightly heavy on the bridge of my nose, this was probably because I'm used to the more lighter Ray-Ban frames.
All Karen Walker sunglasses have an impressive UV grade and let us remember the purpose of a sunglasses. Many of us see sunglasses as the perfect finishing touch to an outfit that somewhat protects our eyes (nod to sunglasses that have low-none UV protection). But we often forget the primary purpose of a sunglasses. They were created to prevent bright sunlight from damaging and discomforting our eyes (thanks Wikipedia). When putting these sunglasses on, you immediately can "see" and feel that your eyes are protected. The glasses were darker than I was used to however, I knew against the sun glares I often come across when driving they would stand up to the daily annoyance.
The sunglasses come with a box case embellished with the Karen Walker arrow and cleaning cloth. My case was baby blue however I've heard that others have received their glasses in a black case. If you have a preference, note this to the retailer.
Now let's talk about the price. I found that the price for these designer sunglasses were reasonably priced (online) in comparison to other designer sunglasses. If you live in Australia, I highly recommend you save your money and purchase it online (and maybe try the sunglasses in store to see if they suit you). Stepping into David Jones, I was flabbergasted when told that the sunglasses cost $350AUD ($317USD), when they were $240AUD ($217USD) on most online retailers. Talk about highway robbery!
I know I throw this word around a lot in my reviews but these sunglasses are truly an investment, as you really are paying for what you get. Not to mention the fact that the timeless quality of the tortoise detail also makes it really easy to pair with any outfit and event. But of course, before considering to purchase always try the sunglasses on first or ensure that they can be exchanged or refunded in case they do not suit your face.
Rating: 5/5
The Karen Walker 'Number One' sunglasses can be purchased from these online retailers here.
Image credit: yuliet, double you