As is the case with luxury and status symbols, nothing of the sort typically comes cheap, and when it comes to Chanel, "cheap" still costs upwards of $500 or so dollars. Needless to say, you need an idol-level salary to be able to readily afford these, and thankfully, Girls' Generation just happen to be in the position to do so.
Being the upscale fashion house it is, Chanel produces ready-to-wear clothing and accessories, as well as it's considerably pricier and famous haute couture ("high fashion") items, which are custom made to suit the needs and measurements of the client, offering the ultimate degree of customization, and when asked, allows the wearer to inform the curious individual that "Yes sir, it's one of a kind", doubly so if the individual asking is G-Dragon. Just kidding.
As it stands, the members of Girls' Generation are typically spotted with the ready-to-wear portion of the designer label, consisting typically of their handbags, wallets, purses and shoes. Though these are in the lower-tier of the product, they still command a pretty penny – the salmon pink clutch wallet pictured below retails for roughly about $950. Oh, to be rich.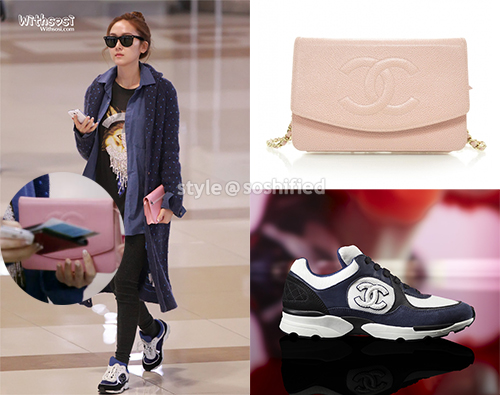 Moreover, the girl's strongly prefer the handbags, as along with the shoes are the most commonly seen of the items. No surprise there, Chanel handbags, alongside the sunglasses and cosmetics, are the widely regarded as the most visible and prominent of the label's items. While some other luxury makers emblazon their design to almost comical extents on some items (MK all over Michael Kors hand bags), most Chanel bags stick to the tried and true method of the double CC on one or two locations, not too gaudy but not too understated that the brand is unable to be recognized.
In the photo below, Sunny's bag from the 2013 showcases the characteristics detailed above.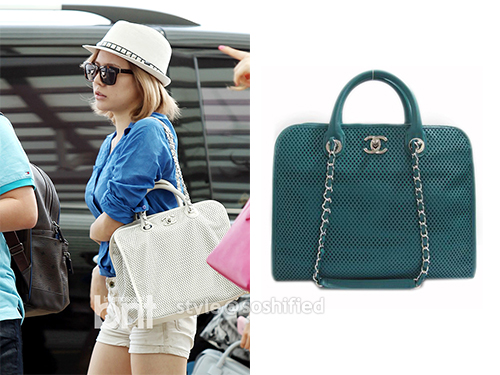 Though at roughly $5,000 a bag, the eye-catching design is nothing to be surprised about. After all, brands survive by revolutionizing or reinventing fashionable statements like bags or glasses. Chanel's made trailblazing strides in both, and it's no surprise the members of Girls' Generation have gravitated towards them and sought to showcase them without even being sponsored models. While the price is high for some, Girls' Generation is not just "some" group, and money is not an issue for them. With some saving and budgeting(not applicable if you're either wealthy, if so, you probably just bought the 2 products I pictured above or already owned them), you too can turn an airport into a runway just like Jessica. Only, you know. Without the paparazzi.