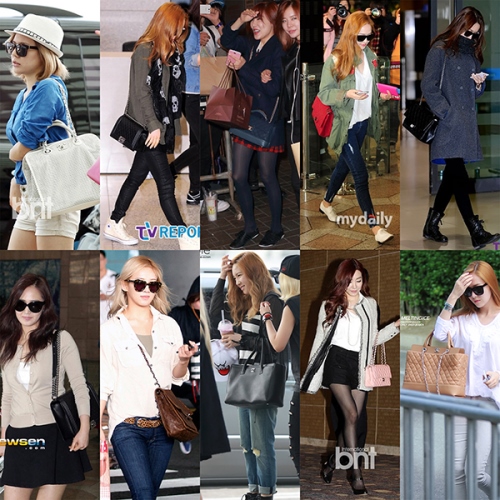 Two years ago, the girls' slight obsession with Mulberry and its iconic Alexa satchel made it as the most loved brand of bag. Though it put up a good fight as defending champion, French fashion empire Chanel snatched the title away winning this year's Bag Brand of the Year.
The Chanel flap bag holds a lot of history about Coco Chanel, every aspect of the bag tells a story in her life. When Karl Lagerfeld took over Chanel as creative director and revamped the design of the bag (replacing the Mademoiselle turnlock with the double-C's, double flap, etc.), he justified the bag as a paradox of being modest and sophisticated. That's probably why it still remains a classic staple to fashion enthusiasts.
The girls are no strangers to the Chanel game; eight (except Seohyun) of them own a Chanel bag (or more). Their Chanels are usually flaunted at the airport, sometimes at public events and personal schedules. Their innocent crush on the brand started a few years ago but only now did that turned into a love affair. Jessica, especially, who is under the Chanel love spell had four different bags (not to mention her growing Chanel sneakers collection) in this year alone.
Most of them preferred the flap with turnlock design probably because it's what defines Chanel most. Some went for the classics, like Yoona, Tiffany, and Hyoyeon; while some had more unique choices like Sunny and Jessica. Yuri and Taeyeon went for the modern and masculine twist and got the BOY Chanel bags.
The girls had different tastes in size, shape, and color of the bags; but their love for Chanel is what they had in common. And we hope it doesn't stop any time soon.