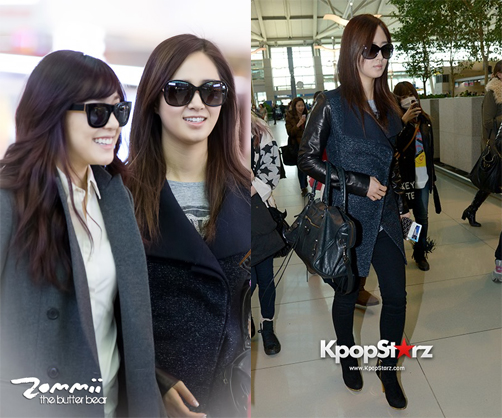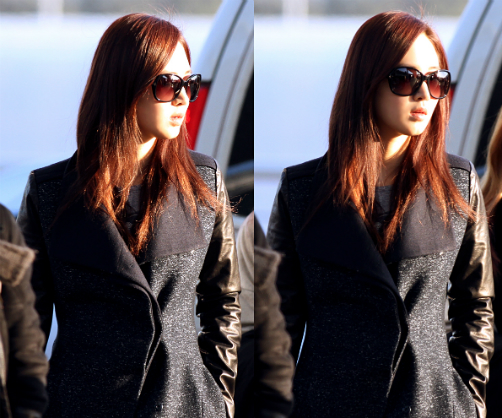 This weeks style showdown was down to a duel between Yuri and Tiffany, both members paired up their modish and dark colored coats with mondo sunglasses. In the end, Yuri was deemed the winner of this week.
Unlike Jessica, the winner of last week's OTW, our black pearl has always favored dark colors which exaggerates her curvy lines and hides her chubby parts. For instance, her airport outfit which featured a Burberry trench coat and knee-lengthed boots elongated her legs and adds a feminine touch to it.
Yuri was being really consistent with her black looks at the airport, this time she took up the challenge to wear a shimmer-sprinkled coat with leather sleeves and a grey t-shirt under.Yuri's full figure compliments this coat which cooks it up into a elegant and exquisite piece instead of turning it into a cheap and boring one.
All in all, she kicked off in a pair of black jeggings and some leather boots with gold details on it. Last but not least, she tipped her Marc by Marc Jacobs sunglasses on and carried her Balenciaga bag. The whole ensemble reminds us of Anna Choi, the character portrayed by Yuri in Fashion King, going on a business trip.
Hope Yuri can continue to keep up her 'black magic' and not to end up with an eerie outfit (signal towards the airport outfit last week). Congratulations Yuri!
Image credit: 2nd image – ccanjuk