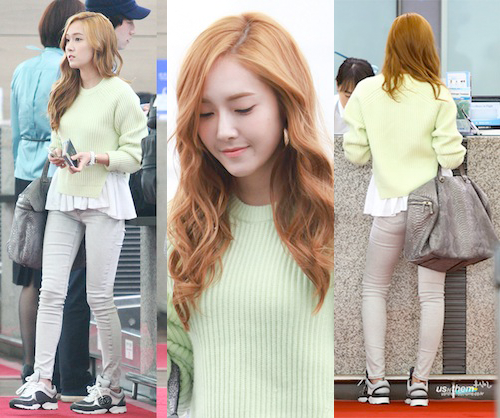 Our ever-so-stylish 'Ice Princess' made everyone stop and stare with her cool and very noteworthy outfit. On her way to Hong Kong, Jessica graced Incheon Airport solo proving that she can shine on her own with her dazzling style.
Jessica's overall outfit consists of a juxtaposition of warm and cold pieces and colors. The outfit is also a blend of the finest brands such as Alexander Wang, Chanel, and Zagliani. It is how Jessica puts this look together that makes it grab any fashion enthusiast's eye. The grey hues and tones from her skinny jeans, Chanel sneakers, and customized Zagliani snakeskin bag work together perfectly. But it wouldn't be Jessica if there were no element of surprise, the well-matched grey pieces are then worn with a pastel green Alexander Wang knit sweater. The pop of color made the look more luminous and saved it from being too mono-chromed. Jessica also puts on a peplum shirt under the sweater, which made it's pleated details seep through the sweater's slits for a feminine detail and to harmoniously contrast her strong and edgy Chanel sneakers.
Effortless accessories are Jessica's choice for this outfit. She wears a simple white watch along with a few thin gold and silver bracelets. As for hair and make up, Jessica keeps it pure and simple. Her light fire-toned locks are loosely curled in soft waves and gives the look more brightness, while she showcases her gorgeous face with barely there make-up but with a touch of peach lips.
Congratulations to Jessica for this outstanding ensemble!
Image credits: UsNThem, MeltingIce