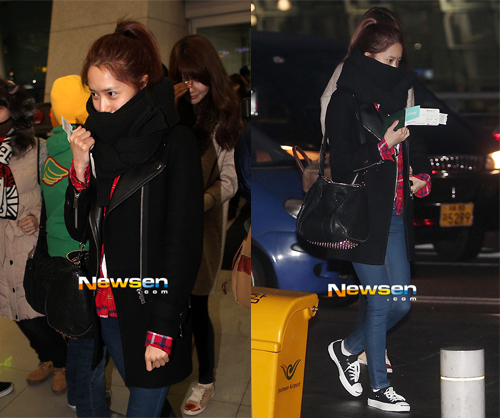 A camera shy Yoona made her first public airport appearance this year at Incheon airport, earlier this week. Bundling up in a Zara leather lapel black coat, Yoona elevated the casual airport attire with a red plaid button up shirt adding intrigue to the dark ensemble.
Though this look is something we haven't seen before and could have done without the black scarf; it exudes the casual next door style of Yoona's we are so fond of with the use of her Comme des Garçon's sneakers and blue skinny jeans. Yoona polishes the outfit off with her edgy black coat and Alexander Wang bag.
The outfit is a nonchalant look that isn't overly too fussy for a quick flight while livening up wardrobe staple items.