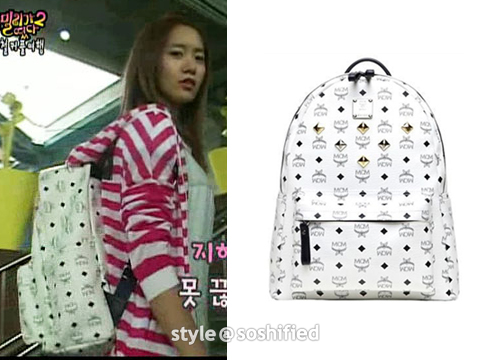 A review on MCM's Stark Backpack as seen with Yoona.
A favorite among Korean celebrities (Rain, EXO, BEAST, etc), MCM has been making huge splashes into the Asian mainstream market as it has been seen more often with Easterners as compared to Westerners. One of the most sought after pieces from MCM would without a doubt be the MCM 'Stark' backpack and to no one's surprise, one of our girls was spotted with one!
The Stark backpack comes in four sizes; mini, small, medium, and large. The size dimensions will vary depending on the type of backpack you buy. In addition to its various sizes, the Stark backpack comes in a diverse set of styles. This can include the amount of studs on the backpack, the arrangement of the studs, the arrangement of the zippers, and so on. Although the studs may intimidate some people, it does add some bling to one's outfit. The backpack also comes in a range of colours, white, pink, black, cognac, blue, you name it!
Before buying a Stark backpack, I would recommend searching online for the style that catches your attention the most. Occasionally, there are some limited edition pieces popping up here and there. My backpack is a limited edition piece which is only available in the United Arab Emirates. Also before buying the backpack, think about what you might be using it for. I bought the medium size, hoping it would be able to fit most of my school books but that wasn't the case. Most of the time, it was too small and I had to carry my books in my arms just because it did not fit into the bag. I simply did not like the large size because I am a petite, and the large size looked oversized on me and it was quite overwhelming. I would recommend trying on all the sizes to see which one would fit you best before buying it.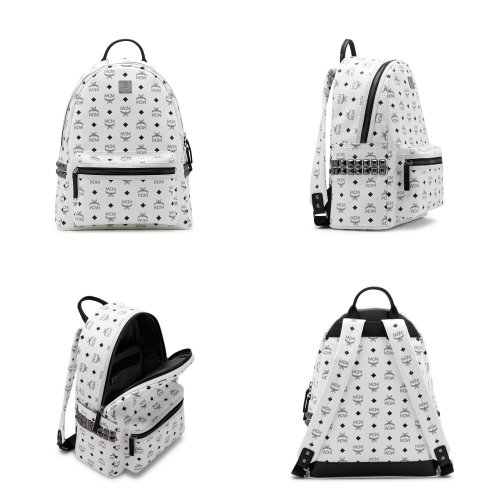 The bag features a single top handle and has adjustable shoulder straps to suit your preferences. It also contains two zips for the main compartment. The medium sized backpack comes with two pockets inside the bag, a narrow pocket and a wider pocket next to it. This can be used to put your phone, keys, etc. The back part inside the bag also has a discreet zipper which can be used for more personal items. It contains a laptop compartment at the back as well, but my 15″ Macbook Pro would never fit in there. However, if you have a small laptop, it might just fit! The bag also has a bigger outside pocket which does come in handy. The bag features two side pockets as well which can fit water bottles or anything else, you decide. One pet peeve I have with the side pockets is that it doesn't fit my SIGG bottle. For those of you who have SIGG bottles, you would know that these bottles are solid hard and they don't "crush" like plastic bottles. I literally have to squeeze and push to get my water bottle into the side pockets and it still doesn't budge an inch. It is due to the fact that the canvas doesn't stretch as much which makes it quite reluctant to fit any wide items in there.
One of the best things about this backpack would be it's versatility. I have seen men and women both carry it and it looks great on both genders. Anything unisex is simply fantastic! I've seen plenty of couples have matching MCM backpacks which is a great sight. I've seen girls opt for the mini, small, and medium sizes and I've also seen men rock the mini size, believe it or not.
The biggest pet peeve I have with this bag would be it's weight. The bag is made of coated canvas but before you even put anything in it, it weighs a ton which is quite surprising as it weighs almost as much as leather backpacks. Compare it to a normal backpack and feel the difference. If I do manage to stuff my textbooks in, the weight is simply unbearable and astonishing.  I feel that if I stuff too much things in the backpack, the shoulder straps would not be able to support the weight of it as most of the time, it looks like it's going to break apart. If you find that your bag has signs of wear and tear, don't hesitate to take it back to the shop if it's still under warranty. They'll fix it for you or replace it with a new one!
A negative point of this backpack which I think most of you will agree with me on would be the price. I spent approximately $1750 for my limited edition piece which is double the price of the regular medium sized backpack. The regular medium sized backpack is priced at $620. For the craftsmanship and the quality of the bag, it really isn't worth it to throw this amount of money for it, in my opinion.
When you're not using the bag, keep it in an upright position with all the stuffings inside to keep the bag from slouching. You can also keep it in the dust bag which is provided with the backpack when you buy it.
Overall, the bag is great as a fashion statement but not that fantastic for everyday school use. If you're one for practicality, this bag would definitely not be the one for you.
Rating: 2.9/5
Look through the range of Stark backpacks here and choose your favourite!