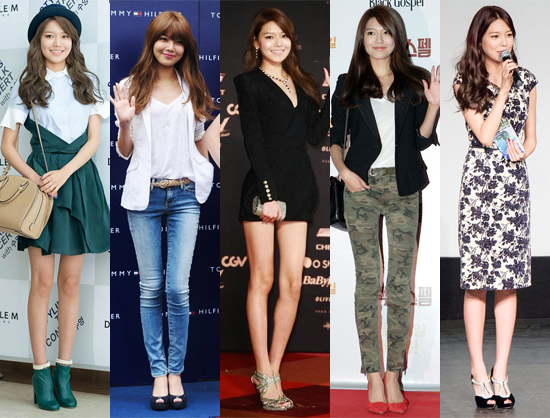 With enthusiastic variation and confidence in the fine art of 'less is more', Sooyoung is crowned the winner for this year's Red Carpet Style. From effortlessly chic in a pair of jeans to classic feminine in a-line skirts; Sooyoung has had us applauding throughout the year with her constant new takes on what to wear to public events.
Though Sooyoung's red carpet moments consist mostly of brand events and movie premiers, but that does not mean there is a lack of stunning outfits. Sooyoung has a knack for making everyday outfits stand out in order to grab your attention. For example, one of the things that set Sooyoung apart from the other nominees for this category was something as simple as pants.
While rarely seen on the other girls at official events, pants have been a staple item for Sooyoung this past year. Though always skinny, the pants have ranged in style from classic denim washes to military camouflage and sparkly sequins and have been utilized as a statement piece that elevates a whole entire look.
As for gala appearances, Sooyoung has had two this year (so far), donning a floor-length, minimalistic gown for one of them, and an almost impossibly short dress with a deep neckline for the other. Mixing it up just seems to come naturally to her and Miss Choi is not a one-trick pony. When it comes to colours, we can see this years palette has gravitated towards the monochromatic range from black via gray to white, and a wide array of blues. Where other colours do pop up they are in general kept muted.
Congratulations to Sooyoung for cinching the title of 2013′s best Red Carpet Style!
Image credit: toto