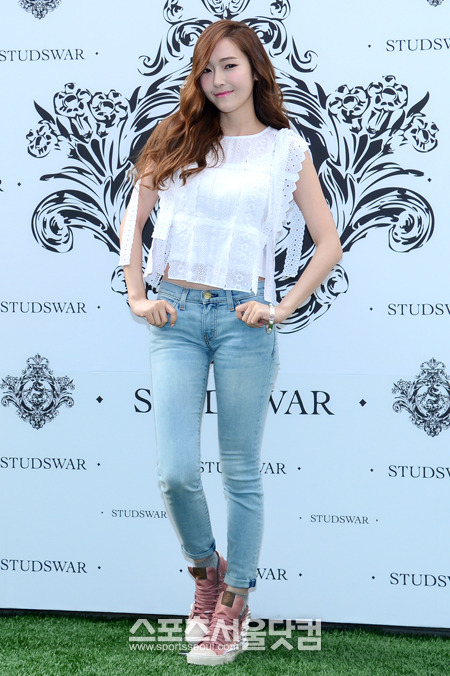 Ice Princess Jessica has been dominating the top places of the OTW poll, for this week, it is already her 5th consecutive week for winning! The Viewers' Choice of the week is this casual spring outfit, worn by Jessica at the Studswar Store Launch event. Her Goen J sleeveless top  is composed of white laces, and the laces were not sewn together at the bottom of the top, making her waist looming between the lace. Completing this look is a pair of light denim jeans and some jewel-embellished sneakers for Studswar.
As voted by you viewers, this outfit is deemed the Viewers' Choice of the week with its spring freshness. Yet we stylists think the lace that is swinging off her shoulder is kind of overwhelming compared to our choice of OTW.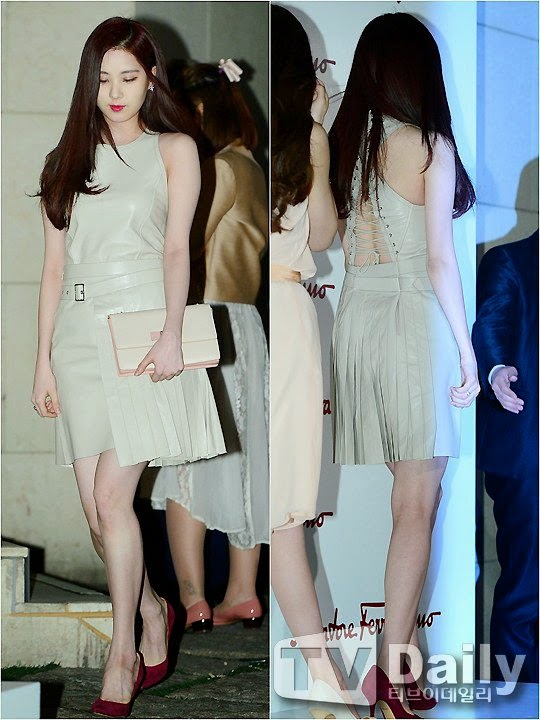 Hereby, we present our Stylists' Selection which is Seohyun's outfit at the Salvatore Ferragamo 'L'Icona' event. She stunned us stylist as she flounced up the stairs to the stage with this pearl grey dress with string details at the back and a belt to enhance her waistline. The dress was also asymmetrical as only the right half of the bottom had pleats, creating interest to the neutral colored dress, Seohyun's Susi Suede Pumps also lit up the outfit with its vibrant color. Concluding the look is a Ferragmo bag which was hold as a clutch. A thumbs up must be given for her makeup as it was on the minimal side with only red lip yet it has an exquisite ambiance in it.