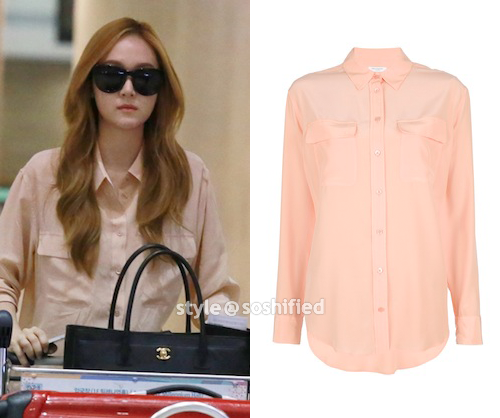 A review on EQUIPMENT's Signature Blouse as seen on Jessica
A simple button-down blouse is an essential item for everyone's waldrobe. Whether you are a 4-5 piece French waldrobe person like me, or someone who has a closet bursting full of clothes, one must have this timeless staple item. Get a classic silk, chic and dress shirt and you will wonder how you lived without one. My first silk blouse came from EQUIPMENT and thanks to its androgynous style, 2 years later later on it is still one of my go-to pieces.
I have gone through many blouses in my life, whether it be from the likes of Zara and TOPSHOP or something a little bit more high end like 3.1 Phillip Lim and Stella McCartney and I can say that I liked these blouses a lot. But there is only one that holds a special spot in my heart and has me going back to wear occasionally.
Let's begin with the details of this blouse. The silk fabric of the blouse simply put is gorgeous. The feel of the blouse is incredibly soft, and if looking at the tailoring was not an indication, the feel of it screams high quality. With that being said, this blouse needs special care, I would advise washing the blouse by hand as putting it through the washing machine will destroy it.
Featuring long sleeves with button cuffs, the blouse has a loose relaxed fit due to its box pleat. This makes it not only comfortable to wear but also trans-seasonal allowing you to wear it during the warm and cold seasons. The blouse also features flap breast pockets, which I would say is only for display. From my experience, the blouse is lightweight and so putting say a phone or anything of the equivalent weight or heavier weighs the blouse down, leaving unflattering sagging from the pocket.
The size and fit of the top is relaxed as commented above, and the tops run large. If you like your blouses just a bit more tighter then I would advise dropping down a size from your usual OR opting for the Slim Signature Silk Blouse that has been worn by Tiffany for a more slimmer fit. I own the same peach coloured version as Jessica's along with white version and the sheerness of the top is only slight.
The price is steep for many and some may argue that you can get a perfectly fine blouse for half the price. But if you are going to have a staple item in your wardrobe that will be worn more than twice, then I say consider it an investment.
Rating: 5/5
Browse through the different varieties of EQUIPMENT Signature Blouses here.