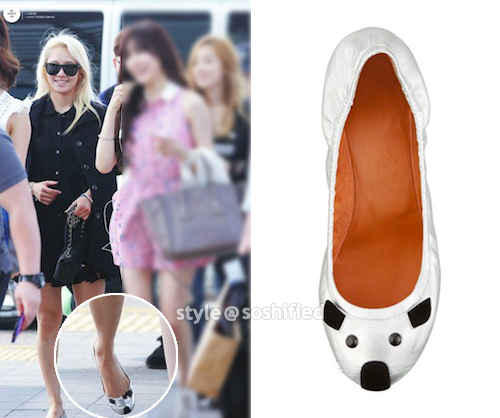 Review on Marc by Marc Jacobs Silver Soft Mouse Ballerina Flat as seen on Hyoyeon.
The playful design of cute and futuristic designed by no other than Marc Jacobs.  I think it really has sleek design that is both wearable and cute at the same time. The mouse design is very subtle; it is not too childish that it cannot be worn in a smart casual outfit or a corporate outfit.
The flats is very versatile to any outfit, you can either dress it up or dress is down depending on your needs and it can still be chic and sophisticated enough to pair with pencil skirts and slacks. The flats are very versatile to any outfit and they are a great go to flats when your feet is tired from high heels. Because of its soft material, I can fold it (ever so carefully) and bring them with me in a small pouch. Whenever I feel tired from wearing heels, I just bring them out and wear them!
It is very light weight and comfortable, though it does not have any added insoles or padding, the shoes are still comfortable enough to wear everyday to school or to work.
It took me a while to find the soft type of flats since Marc Jacobs change their design every season. I've wanted these flats for so long and I can't seem to find them anywhere. Luckily a friend of mine got rid of these shoes because it did not fit her too well (sometimes Asian sizes may not be the exact fit of European and US sizes) and they fit me fine! Not too tight but loose enough that it does not slip when I walk in them.
Drawbacks:
I would like to have a good pair of flats with me but I think since the leather used here is quite soft I feel like I have to take the extra precaution of caring for these a little more; but they do last longer otherwise. Also, do not let the soft leather deceive you, because like any other new pairs of shoes, they need to be broken in. These flats take longer than expected to break in despite having the soft material, it can still cause some scratching and blisters especially when you walk a lot like me, so get ready for some bandaids!
Another is the price, of course, these are designer flats and it would feel absurd to spend so much on a pair of flats. Nevertheless, I find it tedious to have to buy cheap ones and having to throw them out a few months later because I have literally worn them out that the sole would fall out. So I think investing in sturdy and long-lasting flats can help me save money and time. Its better to buy items that can last for a long time rather than buying ones that are wear and tear.
Rating: 4/5
Consensus: I advice not too keep the flats folded all the time, because it ruins the interior sole of the shoe. When you keep it in your bag make sure than you remove it from its folded position as often as you can. These flats are not intended to be folded but kept in its original form.
This product is currently unavailable. But here is the link to view the item.