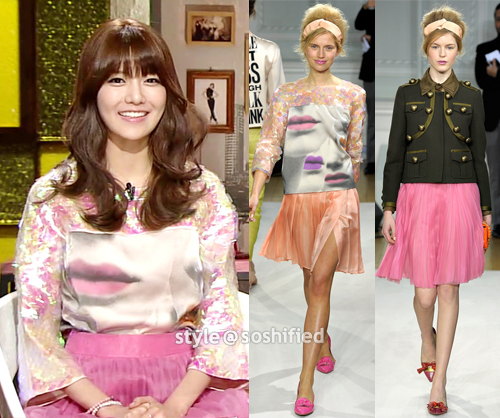 The last Hit or Miss of 2012 questions Sooyoung's choice of outfit once again. This month she was seen wearing a Sequin Lip Blouse and Knee Length Skirt, both by Moschino Cheap and Chic, on SBS Midnight TV Entertainment.
The skirt doesn't seem to be the problem; it's cute, simple and an appropriate length for Sooyoung to sit without feeling exposed. The color and organza fabric add a girly flair to her outfit. However, the problem arises with the blouse, which is awkwardly printed with faces and colored lips.
Since Sooyoung is wearing the blouse tucked in, only one lip is visible, making the print even more odd. Another issue with the top is the rainbow hued sequins. Not only do the colors of the sequins make the blouse look cheap, but they also make the sequins resemble the scales of a fish. Surely, many people will agree that it is mainly the sequins that cause problems with Sooyoung's outfit.
Sooyoung is our victim for the last Hit or Miss poll of this year, so do you want to be merciful or let her know what you really think?
Hit or Miss?

Loading ...