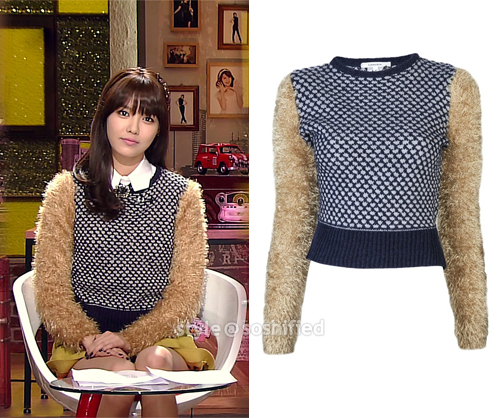 As we move into winter, we've been seeing lots of fur this season. Sooyoung, a notorious fashionista, followed this trend as she appeared on an episode of SBS Midnight TV entertainment (11/14/12) wearing a Hairy Sleeve Sweater by Carven.
The first thing that comes to mind when seeing Sooyoung in this sweater is how large it makes her look! The hairy sleeves resemble the arms of a teddy bear and do nothing to flatter her body. The combination of the blue and white pattern with the puffy sleeves just doesn't seem right. Those two areas seem to clash and compete for attention since they are two completely different concepts.
We don't have a view of what Sooyoung is wearing on the bottom, but whatever it is, it probably won't be able to save her from this sweater.
However, as always fashion is very subjective, so there may be some who see this Carven piece as fashion-forward or eccentric in a good way. No one can deny that it is unique and makes a statement.
What's the verdict? Hit or Miss?

Loading ...