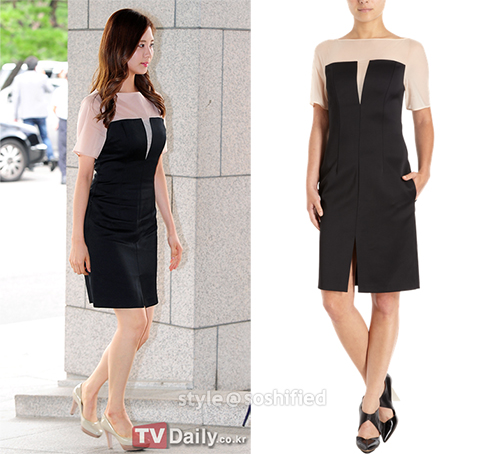 The subject of this month's Hit or Miss poll is Seohyun, who was seen wearing a 3.1 Phillip Lim Short Sleeve Contrast Top Dress at the Popular Music Committee Launching Event. The big question that arises from this outfit is: is this dress classy or does it make her look like an old lady?
The appropriate length of this Phillip Lim piece definitely makes Seohyun look mature, which matches her somewhat conservative personality. The simplicity and monotonous color of the dress may seem classy, but these aspects are also responsible for making the dress border on dullness.
The lack of captivating colors and the loose sheer sleeves age her too much, and her plain shoes don't emphasize her youth either. Another issue in this outfit is the fitting; the dress is not well tailored to Seohyun's body so she looks slightly bulky and we cannot appreciate the great figure she has.
Overall, it seems like her outfit lacks in different aspects (hairstyle, jewelry, color, etc.). Seohyun will have lots of time when she's older to wear simple and mature clothes, so why not take advantage of her youth and have more fun with fashion?!

Loading ...