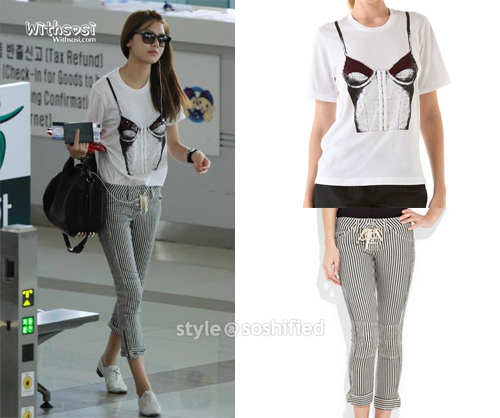 Notes: 3

A few weeks ago, Sooyoung was photographed in a questionable outfit at the Gimpo Airport. Sooyoung was wearing Isabel Marant cropped jeans with vertical stripes that made her already long legs look even longer, finishing off with simple oxford shoes. Sooyoung carried an Alexander Wang Rocco Duffel Bag, a great to-go bag seen often with many of the SNSD members. Everything was going well waist down, but waist up, we started to have our doubts.

The piece that created controversy was a Markus Lupfer shirt with the image of a corset printed on it. That along with the black embroidery on the bra area might have been what made this shirt look somewhat cheap, perhaps her posture in the photograph wasn't helping much either.

After having seen Sooyoung in mostly classy outfits, what do you say about this one? Hit or miss?

Loading ...