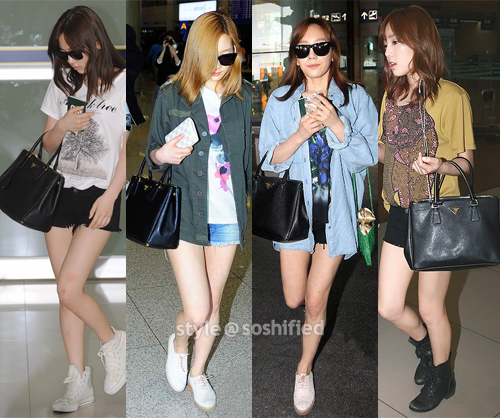 Review on Prada Saffiano Calf Leather Tote as seen with Taeyeon, Jessica and Yoona
Specs:
Double handle
Gold-plated hardware
Saffiano calf leather triangle logo with metal lettering
Side snap closure
Two outside pockets with zipper closure
Four inside pockets, one with zipper closure
Prada logo lining
L 35.5 H 26 W 15 cm
Review:
If there is a quintessential designer brand one must own in their closet it is Prada. Every fashion loving girl needs to have at least one classic, simple designer bag in their closet and now with the massive price jump in Chanel's classic flap bag and pricey Hermes Birkin bag, a more affordable and viable option is Prada's Saffiano Calf Leather Tote has caught my eye.
If there is one thing I look in a designer bag is that it is versatile enough to at least match with 50-70% of my usual outfit style.  I find that the Saffiano works with many outfits as evident with the amount of times Taeyeon has been seen with it.
Not too over sized nor too small the Saffiano is practical not only as a great accessory for a lot of outfits but also for keeping the essentials – wallet, keys, phone, camera, iPad, make-up etc accessible. The number one thing I absolutely love about this bag is that it's main section is open and does not have a closure or zip. This allows you to access the essentials quick and easy without having to unzip/unbutton/unbuckle.
With the major part of the bag being a open space, this might turn off people who are weary of pick pockets or find that open bags look tacky. The open space of the Saffiano is not obvious and there are two big side pockets enclosed with a zip to ease the minds of those considering or have purchased the Saffiano.
The calf leather Prada uses is quite resistant to scratches and will not loose shape however, like many other designer leather bags it is always best to use leather protector and to store treasures like this in their dust bag after use.
Rating: 4/5
You can buy the Prada Saffiano Calf Leather Tote here.