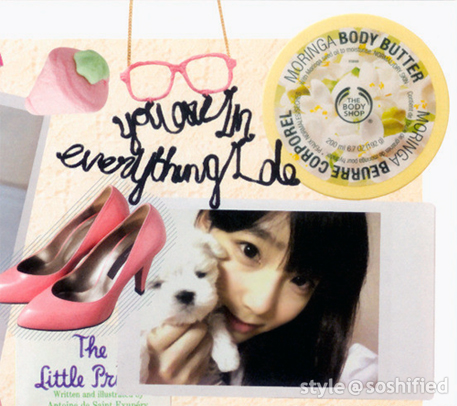 Review on The Body Shop's body butter as seen with Taeyeon.
I discovered The Body Shop in my senior year in High School and was attracted to the store under the promises of organic ingredients and values on animal testing and fair trade. Since then I have been using their products from shampoos, body scrubs, facial washes and of course their lovely body butters.
The great thing I found about The Body Shop's body butters is that it kept your skin moisturized all day long and leaves the skin feeling incredibly smooth and soft afterwards. The Moringa body butter that Taeyeon uses is one of my favorites out of their body butter range as it has a unique, pleasant scent to it. The Body Shop replicates the scents of it's fruits and flowers very well, giving fantastic imitation of the natural scents.
A notable thing to mention about The Body Shop's body butters is that if used on say a large amount of skin such as the arms and legs, you smell like the flavor you have used. I would recommend not to put perfume on after you have lathered on the body butter as the scents may clash with each other.
The problem with the body butter is that it can leave the skin a bit greasy (though the greasiness disappears later on in the day). Though the body butters have wonderful scents, if you choose to use the fruity flavors or Moringa during spring and summer be aware you might get attacked by bugs. I used the raspberry flavor a few times during summer and was standing outside and had a couple of bugs on me thinking I was a raspberry.
All in all, I find the Moringa body butter to be reasonable in price taking into consideration that it is a organic product and is of great quality.
4/5 Stars
The Body Shop's Moringa body butter can be purchased at your local The Body Shop store or online at Thebodyshop.co.uk, Thebodyshop-usa.com and thebodyshop.com.au