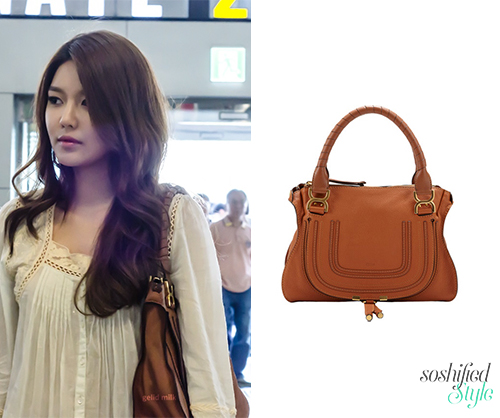 A review on Chloé's Marcie Medium Satchel as seen with Sooyoung.
"I want another one of these in another colour." 
After a full inspection of my Monday morning package that was all I had to say. From the first time I laid eyes on the Marcie I knew I had to have one and of course with the sale season in full swing I managed to nab this beauty with 30% off. Two of the main features that drew me to the Marcie for me were the: supple grained calfskin leather and sophisticated satchel design thus making it one of my favourite go-to bags.
Material:
The Marcie is not a heavy bag and the colours that Chloé offer are easy to pair with many outfits. Though a relatively new bag to my collection, I have used the Marcie quite a lot since I purchased it last month and so far the leather has shown no wear yet. Made in Italy, the feel of the leather is quite soft almost like the feel of butter yet durable. Even though the colour (I purchased – Red) is one that can easily stain, none of my clothes (in particular my jeans) have rubbed off on the bag nor has it darkened.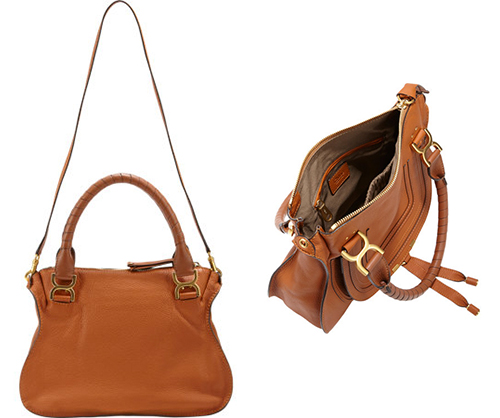 Details and Design:
The images can only show so much but I was extremely impressed with the workmanship put into the bag through the raised stitch accents, wrapped handles, gold hardware and the concealed closures. When actually handling the bag, you can really appreciate these details and understand the pricing behind the Marcie (or in my case justify why I spent so much on a bag).
Admittedly the bag was bigger than I expected but to serve everyday purposes it fit the bill. As measured the bag's dimensions are approx.11.50″ height x 14.25″ width x 4.25″ depth, and easily fits my phone, sunglasses, keys, water bottle, iPad, wallet, make-up and notepad. It won't fit a laptop so you would have to get the Marcie Large for that. The interior contains a patch pocket which easily holds your phone and a zip welt pocket to hold any small nicknacks you don't want to lose. 
The bag has 2 handles, the leather wrapped carry handle and the shoulder strap. The shoulder strap fortunately is detachable so if you want to use the bag as a tote you can remove the straps. What I also really like about the bag design and shoulder strap is that you can carry the bag on the side as well as a cross-body bag. When using the carry handle, I find that it sits quite comfortably on my wrist and my inner elbow and won't dig in harshly into my skin as other bags do.
Consensus: 
The bag truly is a fine example of good craftsmanship and quality. It is a beautiful bag that offers the perfect size and finishing touch to almost any everyday casual outfit. It is highly likely that I will purchase another one of these in another colour (perhaps Sooyoung's lovely tan one) however the price is quite bothersome. Weighing it against other bags that are around the same price, personally I would prefer to buy other bags such as Saint Laurent's Duffle 6 Bag than Chloé's Marcie. My advice get it on sale or at a discount.
Rating: 4.5/5
You can purchase Sooyoung's Chloé Marcie bag from here.
Image Credit: gelid milk, Barneys