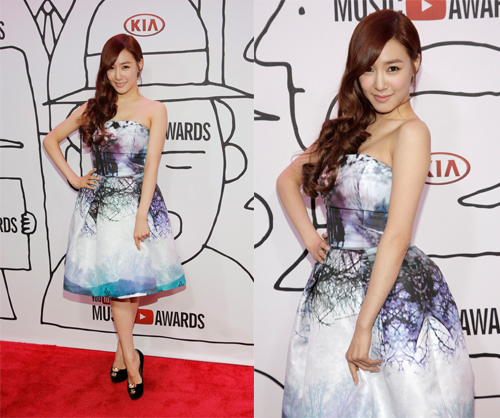 Firstly, let us scream three cheers for our girls on winning the YTMA awards despite the fierce competition. Hip-hip hooray!
As our girls journey 'into the new world' of the international market of music, Fany did not let us Sones down with this magnificent outfit at the red carpet of the YTMA Music Awards. This Mary Katrantzou Dress features multi-colored tree prints with a kind of water color, wet-on-wet effect which illumines a dreamy and enchanting aura. Kudos must be given to the stylist on shortening the dress to the knee, making this dress looking more classical and elegant. With this fantastic plus sophisticated dress, Tiffany only adorned a pair of simple black peep-toe heels with gold embellishments.
Lastly, Tiffany curled her hair and had it side swept concurrently showing her delicate collarbones conjuring more elegance and class. A thumbs up for SNSD for the award and the stylists for this jaw dropping outfit!