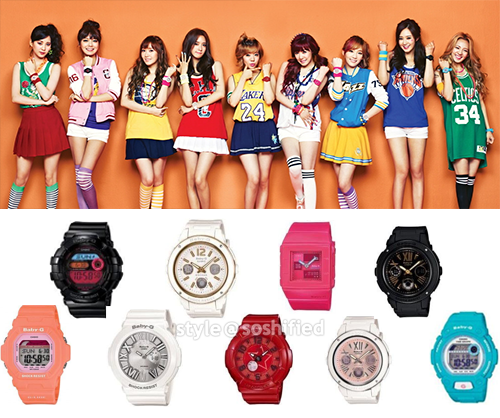 Review on Casio Baby-G Standard Digital watch as seen on SNSD.
Ever since I knew Girls' Generation would be modeling them, I am very excited to buy their Casio Baby-G watch. I'm a big fan of watches and I'm very careful on choosing which watch should I buy as I make it an accessory. While my parents and I are choosing which watch should I buy from Baby-G, I decided to get the digital one for a change. I've been wearing standard-analog watches, so I wanted to try the digital.
What are the specs for the digital Casio Baby-G watch?
Digital clock
Timer
Daylight Saving Time setter
Alarm clock
Built-in light
Hexagon-shaped container
So I'm going to review the standard-digital one only since that's the item that I bought from the watch store.
For the advantages of this watch, first of all, it can be worn by both men and women. I've seen a lot guys wearing the digital watch especially the watch that Sooyoung's model. Of course, the guys chose a boyish type color like black and blue. So guys can actually wear something that our girls endorsed. It's also very easy to read the time because it's digital. You can also see how many seconds have passed already. There's also a built-in timer that you can use for Physics laboratory activities and Gym classes. The timer also has this program that you can split-time. It is also water-proof, so you don't have to worry if it gets wet. One advantage for those who live in the US or Canada can use the daylight saving time setter for summer and winter time. Well, I haven't tried using that since I live in Asia. There's a built-in light that you can use at night or when it's dark. Just press the letter G and the light will turn on. The watch also comes in a cute hexagon tin container.
Drawbacks:
– Don't choose a white one because the back really gets dirty after you use it and if you have a pretty dusty place, don't buy a white one. Try buying the black watch or a dark colored watch. You should always place the watch inside the tin case so it won't be dirty and make sure to clean it with wipes weekly.
– Don't choose a watch that has a neon background. The digital clock is very hard to see during daylight.
– Don't use the alarm clock for waking you up in the morning. One time I used it, I actually didn't hear the alarm. Use the alarm for reminding purposes only when your at work or in school like if you're going to drink medicine. That would help! And this is my first time using a digital watch that has an alarm on it, I don't really know how to use it. So better read the manual before using the watch.
All in all, the watch comes in handy all the time especially when you're a student. Casio Baby-G watches comes in a variety of designs and colors, so make sure to choose a watch that's comfortable for you and that suits your taste.
Rating: 4/5
You can purchase it here and for the limited edition, click here. The watches that the girls wear are still available in all leading watch stores nationwide.