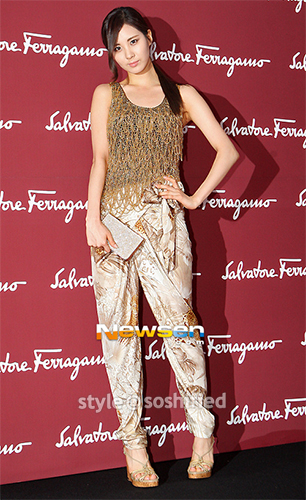 Seohyun seems to get the hang of womanhood as she snatches the Outfit of the Week two times in a row. It was only last week when the resident Maknae wowed us all with her "Sexy Savannah" outfit. When we think she couldn't push beyond the borders, she caught us off guard in a "Sultry Safari" number.
TaeTiSeo sans Taeyeon welcomed the new flagship store of the Italian brand, Salvatore Ferragamo, located in Seoul last July 5. Naturally, honored guests flaunted in Salvatore Ferragamo luxuries, and Seohyun might have done a good job doing so. She took the game into a whole new level when she stepped out onto the red carpet in a gold-embellished top and a pair of silk pants with leopards printed on it. She matched the outfit with strappy wedges and a box-type clutch. She didn't fuss with her hair and tied it simply to the side instead, while she went for a smokey eye makeup.
Most of us, if not all, from Soshified Style are convinced that Seohyun might be the one that Salvatore Ferragamo's looking for to model their collection. The brand just totally agrees with her, and we just couldn't object to that.
Will she maintain her streak, we shall find out next week. Until then, a round of applause for Seohyun for winning consecutively.