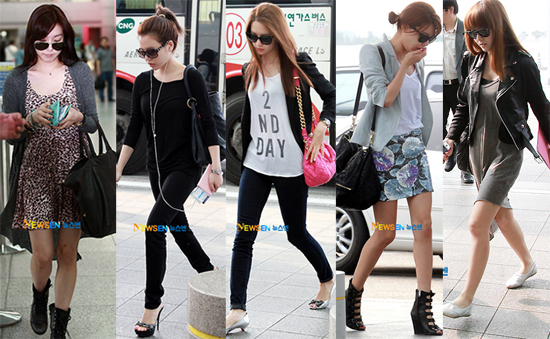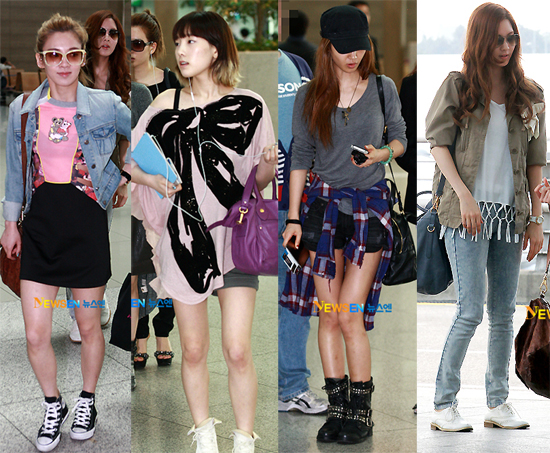 Girl group Girls' Generation showed off an airport fashion that fit each of their personalities.
Girls' Generation left for Paris, France on June 7th from Incheon International Airport in Seoul for the "SM Town Live World Tour in Paris" concert.
How was their fashion at the airport, better known recently as "another runway"? The nine Girls' Generation members each dressed up in their own way, but some looked like they paid more attention, while others dressed more comfortably.
◇ A little more overt, standard of "chic airport look" – Yoona, Sooyoung, Jessica, Tiffany, Sunny
Yoona, Sooyoung, Jessica, Tiffany, and Sunny matched their clothes with black as the base. While adding some style with clothes that seem to have a fit line, they wore items with a bit more elasticity, giving them a little more comfort when on board.
The two members that dressed the smartest and most stylish on this day were Tiffany and Sunny.
Tiffany wore a leopard-print one-piece matched with a long cardigan. She took comfortability into consideration by choosing cotton clothes while keeping style in mind. She was chosen for having the most standout outfit this day. She also mixed and matched items with walkers, aviator sunglasses, and a large bag, completing her entire fashion with a lot of accessories.
Sunny's all-black airport fashion style is one that can be seen often. She matched black skinny jeans with a black T-shirt, and finished it off with a black bag and shoes. If she wore black sunglasses as well, she would have passed for the Grim Reaper. However, Sunny was sensible enough to wear slightly brown sunglasses.
Yoona wore black jeans with a jacket along with big-sized sunglasses, hitting all three beats for chicness. However, it was a bit unfortunate that her pink bag and heels did not match the rest of her outfit.
Sooyoung's bag, heels, and other accessories were all black, giving off a chic mood. Her flower-print skirt and sky blue jacket fit the spring mood, showing a very skilled fashion sense. However, her short skirt would be uncomfortable during long flights.
Jessica showed up in an unbalanced gray one-piece matched with a leather rider jacket, creating the image of a beautiful spy. She wore white flats, showing comfortability, but they did not go well with the rest of her outfit.
◇ A little more comfortable, the standard for the "casual airport look" – Hyoyeon, Yuri, Seohyun, Taeyeon
Hyoyeon, Yuri, Taeyeon, and Seohyun wore casual clothes, creating a cheerful, comfortable airport fashion look. Of casual looks, Hyoyeon and Taeyeon went with a "girlish look", while Yuri and Seohyun showed off "boyish looks".
Hyoyeon wore a one-piece with a unique pattern and print and matched it with a jean jacket, giving off a retro, girlish look. However, there were too many points of focus, making the entire style distracting. Taeyeon wore a dress-like big ribbon T-shirt with short pants, showing the most basic type of "disappearing pants" fashion.
Yuri, who has been gaining popularity with her pretty looks and laid-back personality, showed the standard of boyish airport fashion. She wore a loose long-sleeved T-shirt with short pants along with black walkers and a cap, livening up her style.  Paying attention to the small details by wearing a bold necklace and tying a plaid shirt around her waist, she completed the comfortable, yet casual look, well.
Maknae Seohyun wore light-colored skinny jeans with a jacket that gives off a military-like feel, giving her a tomboy look. She garnered attention for matching the outfit with white oxfords.
Stars' airport fashion is something which ordinary people always look "for something to copy". We were able to look into many different styles with Girls' Generation's airport fashion this time around.
Reporters: Choe Sinae, Jeong Yujin, Yi Hanhyeong
Source: Nate
Translated by: ch0sshi@soshified.com
Edited by: residentbenchwarmer@soshified.com
Have a news item that you think Soshified should know about?  E-mail us at tip@soshified.com.
Follow us on Twitter: http://twitter.com/soshified for the latest on Girls' Generation.
Disclaimer: Views expressed are solely those of the reporters and are not representative of the Soshified community.