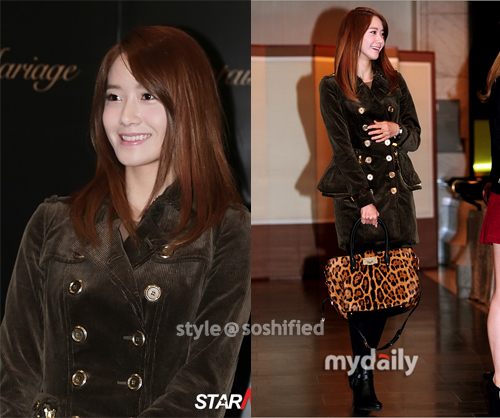 Unfortunately the airport fashion this week was a bit of a let down with either baffling ensembles (nod to Seohyun's blue sweater dress earlier this week) or styling that was quite repetitive (groundhog day with Tiffany's coat/dress/tights combo). Fortunately, we were in luck to get an outfit from Yoona that brought our spirits up in a rather fashion lackluster week.
Yoona takes a big risk this week at HaHa and Byul's wedding donning a Burberry Prorsum cord coat from their Fall 2012 collection.  Yoona's cord coat is paired with black tights and leather boots and a leopard tote, finishing the look off with barely there make-up and straight locks.
This is a very hard piece to pull off given the tricky silhouette that can make the wearer's figure look unflattering. Loving the risk that Yoona took, she takes Outfit of the Week bringing in a breath of fresh air to the usual formulaic dress code the girls abide by (short dress or skirt + high heels).
Yoona allows her coat to make a statement, going easy on the accessories and using a leopard tote that punctuates the warm tones of the coat. Not opting for a belt as seen on the runway it keeps things less busy and prevents the ensemble from being overwhelming. Details such as the gold zippers and buttons, brown tone and cord material make for a very season and event appropriate piece not upstaging the bride, while looking polished and keeping warm at the same time.