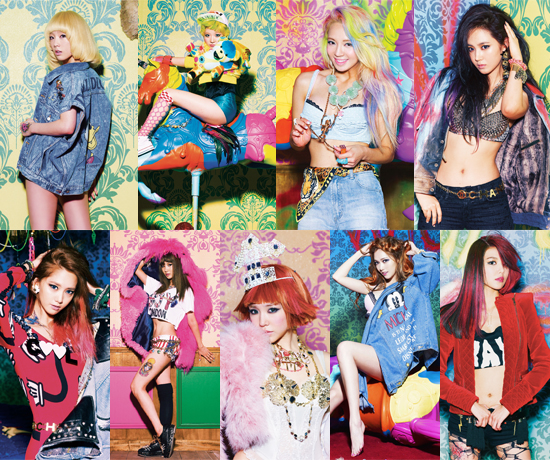 It's been a crazy week at Soshi Style HQ as the girls' latest anan magazine and Vogue photo-shoot photos hit the web, followed by a special teaser clip for their upcoming single 'I Got A Boy'. It didn't stop there, we were delighted with teaser images from their upcoming single a few hours later, that left us all racing to our desktops and posting about the items the girls' wore within minutes of the image's releases.
Insanity it was, and that is exactly the same word we would use to describe this week's Outfit of the week. Expanding way beyond their usual M.O the girls presented us with their new look drawing us into a world of rebellion and punk with illustrated pieces, ripped stockings, and fun clothing items that provided for an artful collision of colours.
High fashion brands were used to construct their rebellious, tele-colour look such as French brand, Chanel. Chanel's accessories such as the vintage gold interlocking C necklace on Sooyoung, were used as small additions next to the dramatic designs of Vivienne Westwood and exquisite tailoring of Balmain. Other brands such as Lazy Oaf and Jeremy Scott were also thrown in and used as statement pieces.
Looks like the girls are coming back and they are bringing in the new year in a big way.