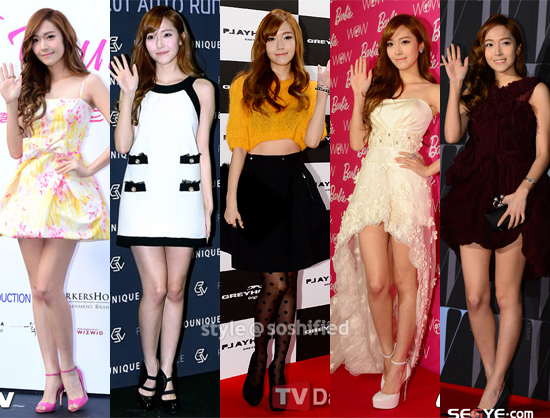 This week, our favorite Ice Princess had such a good showing at events that we decided that instead of choosing an outfit of the week, we'd like to know which one you guys think deserves it!
Her first outfit showcased the departing summer trend, pairing a preppy Red Valentino mini dress with a pair of pink heels, giving the press a good view at her appearance at the Pinking of your Dream! Press Junket.
Continuing the mini dress trend, her second outfit for Premium Younique Lifestyle Runway Show pitted a Moshinco stark white against black trim, as well as accented with black button ruffles, and patent leather heels.
In a twist, her third outfit for the KOON WITH A VIEW, matched an orange cropped blouse with a black skirt and polka-dot hosiery, as well as another pair of black heels. The outfit's main focus, surprisingly, was her notably toned abs, something not normally seen.
Before accepting her award at the "Barbie the Dream Closet 2012″ event, Jessica waltzed out in an white gown befitting of Barbie herself, adorned with a lace floral pattern and a satin top, atop a pair of very toy-esque patent white heels.
Finally, for her appearance at the "W" event, she donned a unique plum Nina Ricci mini dress, adorned with ruffles, which helped to show off her slim legs and snowy white skin.
So there you have it, 5 outfits, 5 choices, 1 winner. Be sure to vote on your favorite, and congrats to Jessica for such a stellar showing this week!

Loading ...