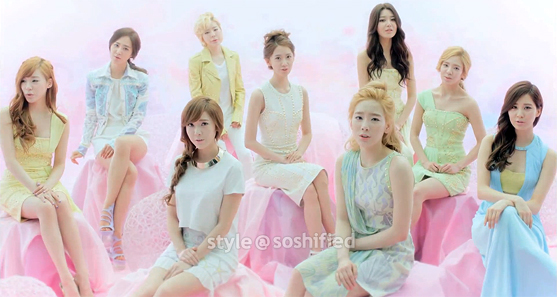 This week the girls are looking stunning in Versace's Spring 2012 collection in their latest Japanese music video entitled "All My Love Is For You".  A stark contrast to the darker style of clothing the girls wore for most of the video, these outfits helped to brighten and give a fresh and young look to the girls.
Many of the dresses have beautiful details, such as Yoona's dress with its intricate beading and Taeyeon's dress that has an ocean themed print.  Letting the pieces from Donatella's under the sea themed collection do all the talking, many of the members opted for no accessories and understated shoes in similar tones to their outfits.
Overall, the outfits are a perfect match to the girls, showing off their bright personalities and individuality, while still being cohesive and matching together.