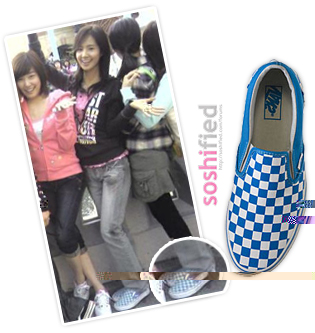 Review of Vans: Checkerboard Slip-Ons as seen on Yuri
I bought the Black/Fandango Pink Checkerboard Slip-On Vans shoes a while back because i love the style and they seemed pretty comfortable. So, i'm here to talk about the pros and cons of buying these shoes!
Now, to talk about the pros! Well, the main reason why i bought these shoes was because they're pretty cute and i had been looking for casual shoes to wear with jeans or shorts. They suit casual wear really well so i bought them without too much thought. If it's hard to match the Checkerboard pattern with anything you have in your closet, you may want to check out some other designs here.  I found that the material was really comfortable as well. They are rather lightweight and they barely needed time to break in! I also felt that they cushioned impact pretty well.
On the other hand, there are definitely cons to these shoes. The main problem I had with these shoes was that they are definitely not water-resistant. Well, duh. However, i made the clever mistake of wearing these out on a very rainy day and if my feet could get a cold, they would have gotten pneumonia. That wet. On the bright side, my shoes dried out without being ruined! They're also rather expensive although it seems like the type of material that can get worn out pretty easily. My advice would be to take proper care of these shoes. I've also heard that these shoes can chafe the back of your heel although i have yet to experience it. So that's something to take note of.
Overall, i'm really glad i bought these shoes because i adore the style. I also think that if you want style and comfort, sometimes you just have to be willing to pay! I really do think they're worth it.
Rating: 4/5